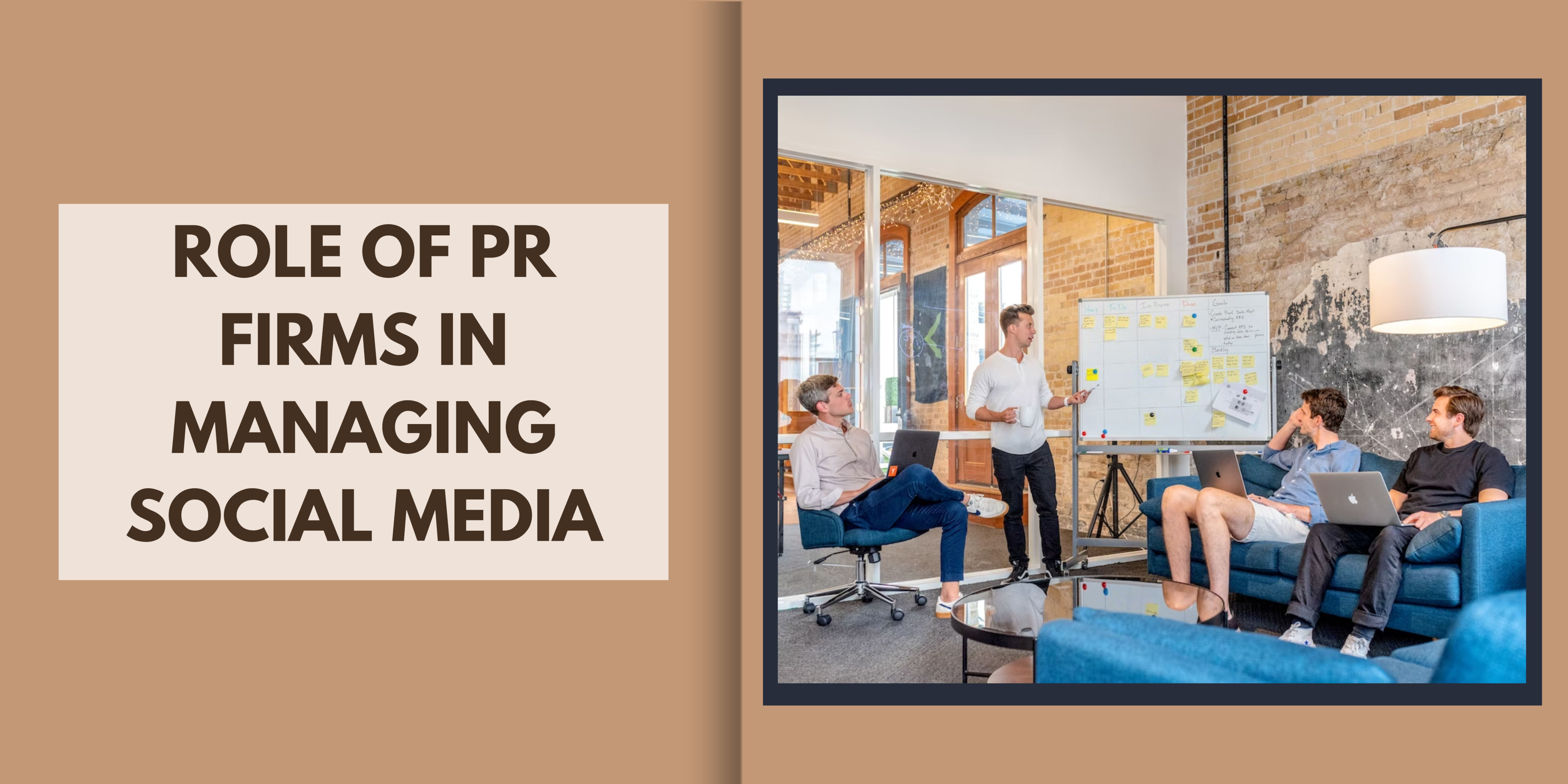 Social media is now essential to everyone's life, and businesses are not immune to its charms either. It may be an easy way to reach out to thousands or even hundreds of thousands of people online, but managing several social media profiles can be exhausting and confusing.
That's where public relations (PR) firms come in. Let's explore the role of PR companies in managing social media services and what they can bring to the table regarding effectiveness and lowering costs.
Roles and Responsibilities of PR Agency
As mentioned in the introduction, Public Relations agencies have the vital task of managing social media services for various businesses. It's safe to say multiple roles and responsibilities are essential to the operation and success of PR companies. You can learn more about the roles and responsibilities of PR agencies in this section.
Crisis Management
One of the primary roles of PR agencies offering social media services is to handle any crisis that might arise before, during, or after the launch of a PR campaign. It can include managing negative publicity, responding to media inquiries, and developing a crisis communication plan.
A good PR agency can create a detailed PR strategy and respond quickly. Every brand needs to communicate the raised issues speedily and raise awareness if necessary. A social media agency knows which strategy is best for a particular business.
Build Media Relations
Whether or not we want to accept it, market research shows that media relations can significantly impact existing and potential consumers. With that in mind, another key responsibility of a PR agency is to build and maintain strong relationships with the media.
That involves identifying critical journalists and social media influencers in the relevant industries, pitching stories to them, and securing media coverage for the client over various social media channels.
Maintain Client's Image
Image source: Unsplash
The job of a Public Relations agency is to ensure its clients maintain a positive public image, especially when it comes to existing and potential clients. Digital PR agencies typically do this by developing and implementing strategies that consider the client's brand values and come up with the best marketing ideas as a result.
They carefully choose the right type of content, post frequency, and platforms to post on to get these values across.
Create and Publish Press Releases
Any PR agency worth its salt will also focus on finding the right newsworthy topics to build press releases around. They can then find the right media outlets to publish these press releases, adding another avenue for improving online brand awareness and boosting SEO for their client's website.
This type of content typically covers some important aspect of the client's business, be it the unique selling point of their products and services or some form of achievement the company has had recently. It can be a major milestone, an award, a philanthropic endeavor, etc.


Image source: Unsplash
Benefits of Hiring a PR Agency to Maintain Your Social Media Platforms
Many business owners are unsure if they need someone to manage their social media accounts and if that would offer substantial benefits. With that in mind, here are a few key benefits you can expect when you hand the reigns of your social media marketing to a PR Agency.
Such agencies have a big advantage over the common business owner – they are laser-focused on a particular area and have professionals with years of experience under their belts. That means they are tuned into all the latest industry trends and best practices for each platform and understand pop culture, memes, and how different audiences respond to content.
All this allows them to tailor the appropriate strategy for each client, driving more traffic and improving brand perception.
Having an in-house team covering your social accounts can quickly get expensive. That said, PR agencies are generally a more cost-effective solution since they often have access to resources, tools, and networks others don't have. Most importantly, these resources help agency employees achieve their goals efficiently, saving time and money.
So, if you're looking for a successful social media strategy at a reasonably low cost, Public Relations companies could be the ideal solution.
The biggest mistake most people make on social media is that they try to do what everyone else seems to be doing. Alternatively, they take a shotgun approach, firing in all directions, hoping that something hits the target.
PR agencies offer a more focused approach, with content that resonates with your audience, is consistent with your brand philosophy, and builds engagement. It's all about those likes, clicks, shares, and conversations in the comments, and you can't get that with generic content.
The pros will also know how to collect and analyze all the data to tweak a few things and get even more engagement out of your audience.
Public relations disasters are all too common today. You've probably seen at least a dozen recent cases of big and small businesses putting their foot in their mouth with inappropriate social media posts or comically mismanaging a delicate situation.
Negative reviews and inflammatory comments on posts need to be addressed. Still, it takes an experienced pro to do so delicately and turn a bad situation into a win for the company.
Anyone looking at your profiles will see your company responding cordially to comments, offering solutions to customer complaints, and taking swift action to remedy any mistakes or mishaps.
When people see a company that is honest and proactive, with excellent customer service, they are likelier to buy their products, leave positive reviews, and recommend them to their friends.
The most significant benefit of outsourcing social media management to a PR agency is that you and your team will have all the free time to focus on more pressing matters. There's no need to train your staff in public relations or have a team member spend 30 extra minutes of their time on social media every day.


Image source: Unsplash
The Role of PR Firms in Effective Social Media Platform Management
Now that we have covered some of the benefits of hiring a PR firm, let's look at their services and why they are so successful at what they do.
Ensure Consistent Key Messaging
Thanks to social media monitoring which has been gaining more and more popularity over the recent years, PR firms can now ensure that their clients' key messaging is consistent across all social media platforms. They mostly create strategic communication plans that align with their client's goals and objectives, resulting in outstanding social media engagement.
Share Their Professional Expertise
These professionals simply have lots of knowledge of social media marketing. It's not all just theoretical knowledge, either – they've been there and done that, so they can offer actionable advice based on what has worked for their clients in the past.
Killer Research Skills
Anyone can look up the latest news or find generic blog posts on any topic using Google, but you'll need more than that to impress your audience. PR firms can dig deep and search through blogs, forum posts, top industry research that is often hidden behind a paywall, and even an assortment of gifs and short videos to craft the best content for you.
Have a Large Client Network
Not everything is about a well-designed PR plan. A big part of their success is their relationships with various companies over the years. The broad network of clients and contacts means that these professionals have already researched the top names in the influencer and online entertainment spheres and have made all the right connections.
That's why it's easy for PR agencies to drum up some hype for the brands they work for and give their campaigns that initial push.
Great Management Skills
Understanding all the ins and outs of any significant social media network allows PR firms to cover multiple platforms simultaneously. They have the skills and tools to manage several accounts for dozens of clients and never skip a bit.
Expert Content Creators
Last but certainly not least, PR agencies can access the top creative talent. Being informative and posting regularly on social media won't get you very far if you lack style and humor and don't know how to get your message across.
With an in-house staff of seasoned writers proficient with memes and short videos and a unique style that adds some levity to each post, PR agencies are several steps ahead of the average business account on social media.
Conclusion: A Perfect Amalgamation of PR and Social Media
Combining PR firms and social media creates a powerful duo that helps businesses achieve their marketing goals and stay on top in today's highly competitive digital landscape.
By working with a PR firm that keeps up with the latest nuances of social media marketing, companies can stay ahead of the curve, increase brand reputation, and connect with their target audience seamlessly.
References
https://scoreindia.org/blog/role-of-a-pr-professional/
https://wearecsg.com/what-does-a-pr-agency-do/
https://www.3epr.com/how-social-media-and-public-relations-work-together/
https://www.axiapr.com/blog/why-pr-firms-should-manage-social-media
https://www.socialmediatoday.com/content/role-pr-firms-social-media-and-inbound-marketing
https://www.museandmotif.com/what-is-pr-agency/
https://www.museandmotif.com/what-is-crisis-management-in-pr/
https://www.museandmotif.com/business-strategic-media-relations/
https://www.forbes.com/sites/forbesagencycouncil/2023/02/10/what-is-a-pr-agency-and-how-can-it-help-your-business/?sh=4e27208658cd
https://www.forbes.com/sites/forbeshumanresourcescouncil/2023/01/30/six-reasons-why-companies-will-continue-to-collaborate-with-pr-firms/?sh=2fa738a832e1